Fresh Japanese Fish & Seafoods delivered direct to your door#2 ~Japanese Pub ~(Narimasu Dynamite Sakaba Great)
We not only export fresh Japanese fish to foreign countries, but also deliver fresh fish to customers in Japan for restaurants. We regularly go to Toyosu market four times a week on Mon, Tue, Thu, Fri (Wed is Regular holiday) ,and we deliver fresh fish on the day according to our customers request. It will be available to order the fresh fish direct to us. We are glad to provide various genres of restaurants such as Izakaya(Japanese Bar), Italian, Chinese and yakiniku restaurants. For example oysters and scallops are used as Izakaya menu like Nibbles & Finger food, in Italian it is common to use white fish for carpaccio, sakura shrimp and asari clams for pasta, in Chinese restaurant abalone and crab are used as common menu on the dinner table.
The type of fresh fish used by each customer is different, and even the same fish will become totally different dish depending on the different type of restaurants.
 On the morning of the day, we offer Customers of today's recommended fresh fish from Toyosu Market on LINE(※messaging apps) and deliver items on the same day according to their order.
※it will make it easy to order your goods and connect with us directly on Messenger like LINE, Whatapps etc.
We would like to introduce "Narimasu Dynamite Sakaba Great", an Izakaya(Japanese Pub) in Narimasu station ,Itabashi area in Tokyo. "Narimasu Dynamite Sakaba Great"'s main menu is Meat dish, but since we met the restaurant owner about a year ago, they have been using our 「fresh japanese fish ordering service」 on messager every week and restaurant menu being more various than before.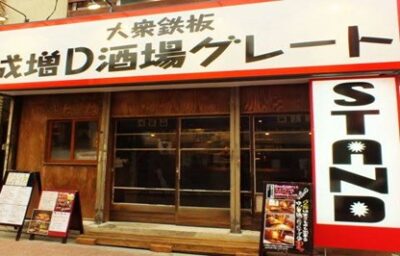 ↓From direct delivery Toyosu market special menu
There are only pictures and advertisements promotion of meat on the outside signboard, but once you enter in, there is a special menu of fresh japanese fish delivered directly from Toyosu market, and from that gap the restaurant is famous that you can eat fresh japanese fish in this meat-base menu Izakaya too.
It is said that one of the reasons why it is so popular is that only the meat-based restaurant can figure out the menu, and you can eat fish dishes that you cannot eat at an izakaya that mainly serves seafood.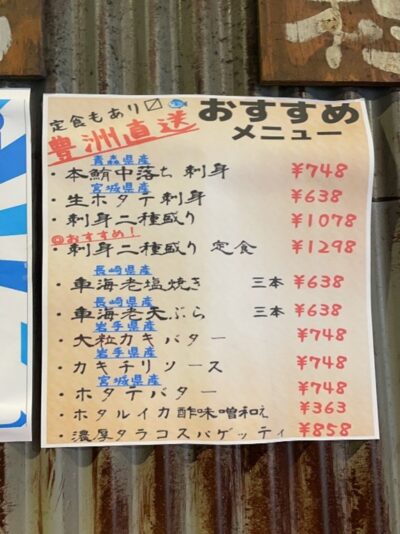 Shark hearts, which are rarely seen in Izakaya, but you can enjoy at"Narimasu Dynamite Sakaba Great" if they are in stock.
By chilling the heart of the salmon shark landed in Kesennuma, Miyagi Prefecture, with cold ice and draining the blood, the odor is completely eliminated.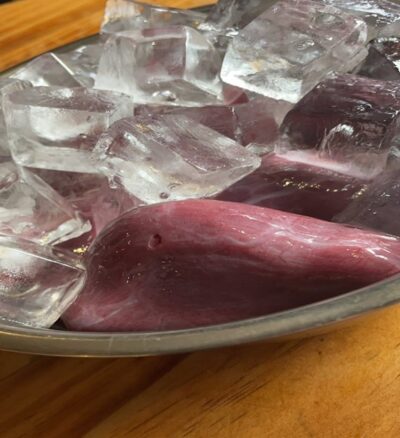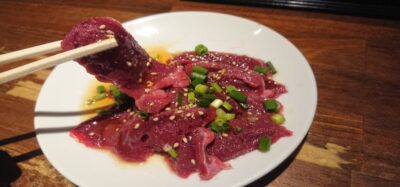 The sashimi that you can eat with sesame oil and garlic. How excellent!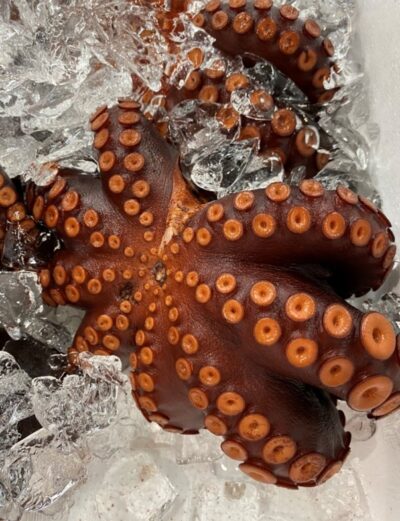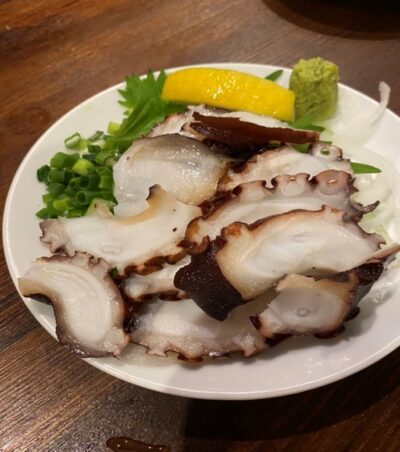 Big size Boiled octopus is cut beautifully and served deliciously as octopus sashimi.
Unlike shipping overseas, we can feel free to go to a domestic customer's restaurant, and listen to the customer's request directly.
While valuing such communication, we will pursue better and better product proposals and services every day, and will do our best to satisfy the restaurants and even the customers who come to enjoy the meal.
Narimasu Dynamite Sakaba Great has excellent meat dish as well as fresh fish, so please come visit!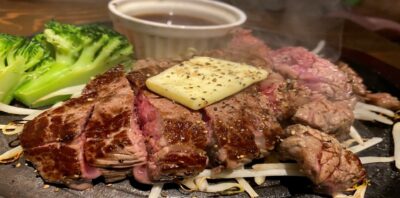 Most popular menu 「Dynamite Steak」
【Restaurant information】
Narimasu Dynamite Sakaba Great
2-18-12 Narimasu, Itabashi-ku, Tokyo
1 minute walk from Tobu-Tojo Line "Narimasu Station"
or Fukutoshin Line / Yurakucho Line "Subway Narimasu Station"
https://narimasudynamite.owst.jp/
More information kindly check
Home>Our Businesses>Food Business>Food Business News List
https://www.itabashi-trading.com
【Contact us 】
Itabashi Trading Co., Ltd
Food Department Mr.TAKAYAMA  (Please feel free contact with us in Japanese, English and German)
TEL :+81-3-3248-1016(Workday 10:00~17:00(+GMT8:00))
FAX :+81-3-3248-1008
e-mail: shokuhin@itabashi-trading.com
Recent Posts
Category