Development and export of Private Brand products  ~Development of yakisoba for overseas~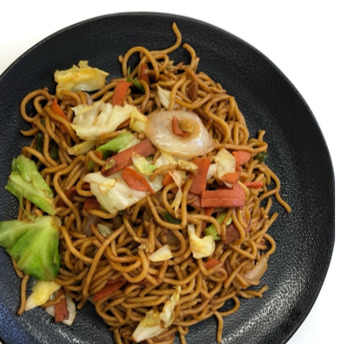 We not only import and export, but also support planning and developing food products.
Currently, we are developing retail PB Yakisoba, fried noodles with manufacturers for overseas customer.
The other day, we went to the manufacturer's factory to ship out the samples.
The planning and development of this product began more than two years ago.
We have been in charge of technical advice, support the manufacturer to obtain certification and coordinating with customers and manufacturers, and having prototypes and improvements repeatedly.
The original plan was to have this product be sold at retail stores in customers country already in the last year but this product is delayed drastically due to Covid-19.
As the regulations caused by COVID-19 has been gradually calmed down and the prospects for our customers sales activities have been established, we managed to ship out the sample.
On this Yakisoba sample shipment, we visited the manufacturer's factory and loaded the samples.
It was the first time for the manufacturer to ship and manufacture products for overseas, so we prepared a lot in advance and then loaded the product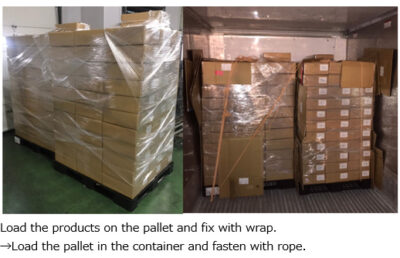 We had tasting the Yakisoba at our office on the day after loading the samples.
It was the first tasting except for the persons in charge of development, and we talked about the difference from the yakisoba which we usually eat.
In developing food products for overseas markets, it is a prerequisite to manufacture food products using raw materials and processes that comply with the regulations of the customer's country / region.
In addition, we create textures and flavors that will match the customer's market, and we add value and commercialize products according to the customer's request such as organic, NON-GMO raw materials etc with the cooperation of the manufacturer.
The specifications of this yakisoba have been finalized after repeated trial and improvement with customers and manufacturers.
We hope that the product will be said "delicious" by many customers as possible.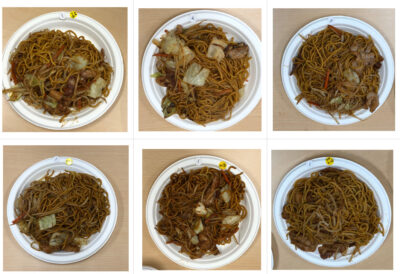 These pictures were taken at the time of trial-product-examination. We adjusted and compared the composition of spices and colors of the Yakisoba sauce, the thickness of the noodles, and the amount of water many times.
By the time of exporting this product, it is expected that fine adjustments and complicated procedures for required documents are needed.
We will continue to work with our customers and manufacturers so that we can provide better and better products to the world.
We are working on various activities such as product development for export and domestic sales and procurement of raw materials, so please feel free to contact us.
Referenced page: Itabashi Trading Homepage > Food Business > Support for Development of Food Products / Import and Sales
https://www.itabashi-trading.com/en/business/food/develop/
Contact Information:
TEL 03-3248-1016(Weekly 10:00~17:00)
FAX 03-3248-1008
e-mail: shokuhin@itabashi-trading.com
Recent Posts
Category