Itabashi Trading is fighting with Toyosu market!
We, Itabashi Trading has been exporting fresh fish overseas.
In addition to exports, we also sell fresh fish to some domestic consumers.
We would like to introduce the story this time.
In epidemic spread of Covid-19, many of you would have been refraining from eating out and had your meals at home. And you must have been feeling depressed and down because you abstained from eating out.
Under the emergency declaration and Semi-emergency measures for preventing infection spread of Covid-19, a lot of restaurants were forced to close, therefore the market price of fish in Toyosu market was collapsing down drastically. That is why we started in-house sales to provide some inexpensive and delicious fresh fish to our employees.
On the morning of the event, we will show our customers some fresh fish available at Toyosu market, receive an order and deliver them to our customers on the same day.
We are showing many goods such as fresh fish, shellfish, shrimp, frozen goods, dried sea lettuce, seaweed, and ponzu sauce, etc.
We are fighting to provide more fresh and varied selections with reasonable price as our motto.
At first, we started selling to our employees, and now we are selling to several groups and some customers in a limited area.
We hope that our service will eventually lead to a more bustling Toyosu market.
And we would like to introduce some of the rare and popular seafood among many different varieties.
The first, it is SHARK'S HEART. It's a fish delicacy called "MOUKA NO HOSHI "and a texture is like a liver and goes well with sesame oil and salt.
 It is a valuable high-class food that is rarely appear on the market and only available among fishermen because the freshness is important.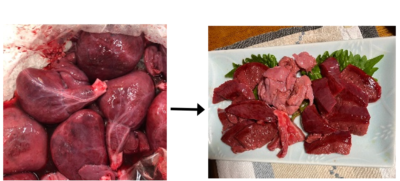 The second, it is TUNA RIB of bluefin tuna. The tuna rib is the red flesh part between the bones and very popular among young and old alike.
We have other many varieties of fresh fish and seafood that can't be introduced this time.

Depending on the weather and oceanic condition, fresh fish available on the market may vary each time. Therefore, you may meet a different fish depends on the time.
In addition, the price also will be greatly affected by the weather.
We are good at judging fish and looking for more fresh, delicious and the best ones from among lots of fish for our customers.
And we will keep pursuing a better service that will satisfy more and more customers with Toyosu's fresh fish.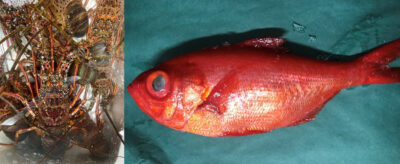 【Contact us】
Itabashi Trading Co., Ltd
Food Department 
Mr.TAKAYAMA (Japanese, English, German)
TEL :+81-3-3248-1016(Workday 10:00~17:00) 
FAX :+81-3-3248-1008
Email: shokuhin@itabashi-trading.com
Recent Posts
Category