Premium vinegar that you have never seen!
Do you think there is not much difference among ponzu vinegar (vinegar made of soy sauce and citrus juices)?This time, we would like to introduce ponzu and vinegar that will completely change you mind!
This vinegar product is a masterpiece with great care by Uchibori Vingar Inc.,
which has its head factory in Gifu prefecture, middle part of Japan.
Uchibori Vingar values the idea that "vinegar brewing starts with sake brewing" and continues to make delicious vinegar products.
The three steps of vinegar-making process, alcohol fermentation, acetic acid fermentation, and aging, are carefully performed and quality control is thoroughly performed, so the taste and flavor are a bit different from ordinary vinegar. Once you use, you cannot return to the vinegar you used to use.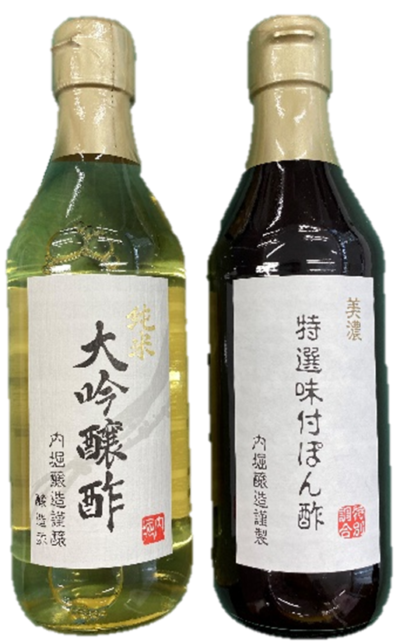 Left: Junmai Daiginjo vinegar 
Right: Mino special seasoned ponzu vinegar
Mino special ponzu does not have the strong acidity,
and it is especially recommended for those who think that ponzu itself has a slightly strong taste!
It has an elegant taste without being too assertive.Soon after the scene was broadcast on television that a very famous person to represent Japan uses it regularly,
the sales on internet shopping rose to the top suddenly!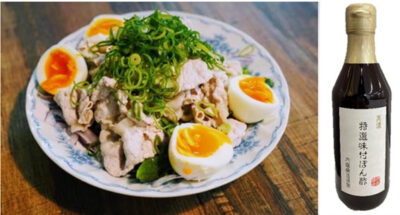 Excellent combination with Mino special ponzu sauce! Cold Pork shabu-shabu salad
Daiginjo vinegar has a mild acidity and savory aroma that you can drink just vinegar itself. Koshihikari rice produced in Nagano prefecture is brewed by the Junmai Daiginjo method, which has a rice polishing rate of up to 50%, so it is able to achieve an elegant flavor with no miscellaneous taste.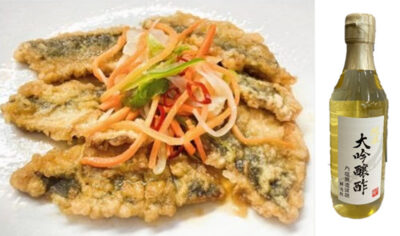 Refreshing with Daiginjo vinegar! Marinated Deep-fried Horse Mackerel
In addition to this ponzu and vinegar products, we also handle various products of Uchibori Vinegar and sell them to both domestic and overseas customers, so please feel free to contact us if you are interested.
Home/Our Businesses/Food Business/Food Business News List
【Contact us】
Itabashi Trading Co., Ltd
Food Department 
Mr.TAKAYAMA  (Japanese, English, German)
TEL :+81-3-3248-1016(Workday 10:00~17:00) 
FAX :+81-3-3248-1008
Email: shokuhin@itabashi-trading.com
Recent Posts
Category