A New Brand Salmon was born in Yamanashi, which "Sakana-kun" praises!!
We have been handling "Fuji-no-Suke" salmon, which was born in Yamanashi Prefecture.
How come it was born in Yamanashi Prefecture?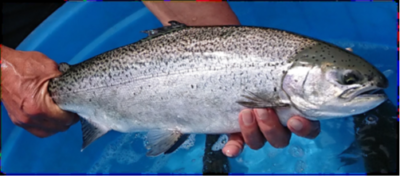 Yamanashi Pref. has the second highest consumption of tuna per household in Japan.
And the number of sushi restaurants per 100,000 people is the highest in Japan.
It can be seen that the people of Yamanashi Pref. love sushi.
Yamanashi Pref. is surrounded by beautiful mountains such as Mt. Fuji, the southern Alps, and Mt. Yatsugatake, and about 80% of the prefecture's area is occupied by mountains and forests.
In Yamanashi Pref., there are 7 places selected as one of the Selected 100 Exquisite and Well-Conserved Waters or as one of that of Heisei period and makes it the largest producer of mineral water in Japan.
Yamanashi Pref. is blessed with abundant, pure, and good water, making it ideal for freshwater fish farming.
Since salmon and trout prefer cold and clean water, Yamanashi Pref's trout farming production is the third highest in Japan.
We visited the Fuji Trout Farm, one of the farms where "Fuji-no-Suke"salmon is cultivated, and the Oshino Fisheries Experiment Station where the research and development was conducted, and observed the artificial insemination ponds for research purposes.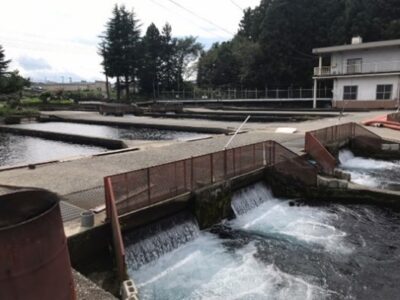 "Fuji-no-Suke" is a new brand of salmon developed by the Yamanashi Prefectural Fisheries Technology Center by crossing King Salmon, one of the highest quality trout, with Rainbow Trout, the most productive trout in Yamanashi Pref.
King salmon, the male parent, is one of the largest species of salmon and trout, and is considered to be high quality and delicious, but it is difficult to keep in freshwater and does not grow very large, which makes it unsuitable for aquaculture.
On the other hand, the female rainbow trout eats well and is easy to raise, and it is suitable for aquaculture.
"Fuji-no-Suke" got the best of both worlds.
With the concept of "creating tasty fish suitable for aquaculture", a fish that does not have roes, was born through a special crossbreeding process.
(It was approved by the national government (Fisheries Agency) for use in aquaculture in December 2016.)
This combination of king salmon and rainbow trout is unprecedent in the world.
As a result of more than 10 years of research, a new brand of fish, "Fuji-no-Suke" was born.
Fuji-no-Suke is characterized by its stable meat quality, as the nutrition will not be absorbed by roe.
It also has a vivid flesh color and stronger savory taste than usual cultured rainbow trout.
The meat is also rich in fat and has a smooth texture.

The name "Fuji-no-Suke" was chosen from 3,163 entries submitted by the general public in November 2017, named after the image of the highest mountain in Japan, Mt. Fuji, and the Japanese name of king salmon, "Masunosuke", which is highly rated for its taste and size.
And this name contains an expectation for growing large as a major fish of Yamanashi Pref.
Just as "Sakana-kun "(Japanese ichthyologist and TV personality), who is known for his phrase "Gyo Gyo Gyo", is the head cheerleader for Fuji-no-Suke and is promoting the appeal of Fuji-no-Suke, we hope that many people in Japan and abroad will try and enjoy the Yamanashi's brand salmon.
We also handle Fuji-no-Suke.
If you are interested in it, please feel free to contact us.
【Contact us】
Itabashi Trading Co., Ltd.
Food Department 
Mr.TAKAYAMA (Japanese, English, German)
TEL :+81-3-3248-1016(Workday 10:00~17:00) 
FAX :+81-3-3248-1008
Email: shokuhin@itabashi-trading.com
Recent Posts
Category