Attendance of Unloading the Imported items.
We import raw materials of food for various retail and commercial products and sell them to domestic manufacturers and retailers.
Our import business has been one of the oldest since our inception of the company for about 30 years.
The main products we import currently are Been starch vermicelli, kelp extract and various kinds of nuts.
*Please refer to the URL below for details:
https://www.itabashi-trading.com/business/food/develop/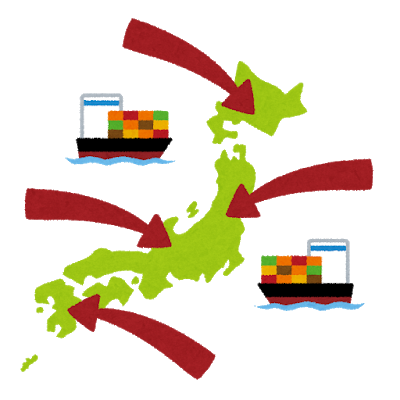 As an importer, we are actively visiting the site not only for import procedures but also for getting continuous handling of products by customers, for delivery attendance, quality control, and new product proposals.
During the effects of the COVID-19 was diminished, in order to consider future preventive measures and ways to maintain safety and quality taking an advantage of our years of experience, we went to our customer's factory to attend unloading Kelp extracts from containers, which is used for raw material for noodle soup, etc.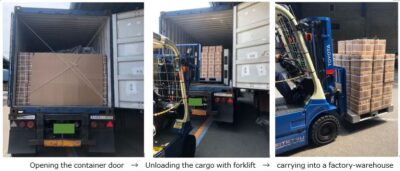 When it comes to trade, there are always possibilities of collapse or damage to cargo during transportation in containers.
By checking the imported goods, unloading and having conversations with customers, we were able to think about ways to improve our concerns during transportation and ask them about their requests directly.
Because of COVID-19, it is difficult for us to visit manufacturing plants to check the situation and improvements.
However, we have subsidiary in China and so is able to work for checking manufacturing and exporting customs smoothly anytime.
If you are considering importing foods from China not only our currently handling products but also others, please leave it to us.
Importing raw materials does not mean that the products are displayed directly on the shelf of retail stores, but our imported ingredients may be used in the foods you usually eat!
We would appreciate it if you could choose and enjoy food while considering that various people are engaged in making a product.

Examples of our imported products
Please feel free to contact us if you are looking for anything or have any preferences regarding food products, whether in Japan or abroad.
Contact us:
Itabashi Trading Co., Ltd  Food Department 
Mr. Iguchi (Japanese)
Mr. Takayama (Japanese, English, German)
TEL 03-3248-1016(Workday 10:00~17:00) 
FAX 03-3248-1008
Recent Posts
Category