First arrangement of Ryukyu Sugi from Okinawa!
Taishin Corporation (Farmer and supplier) and we, Itabashi Trading started exporting Ryukyu Sugi (Cobia) which is a rare fish farmed only in Okinawa to East Asia from June.
※Ryukyu is the name of the kingdom when Okinawa existed as an independent nation long ago.
As it was the first time to pack Ryukyu Sugi for exporting from Okinawa, we visited Taishin's packing space to observe and show how to pack.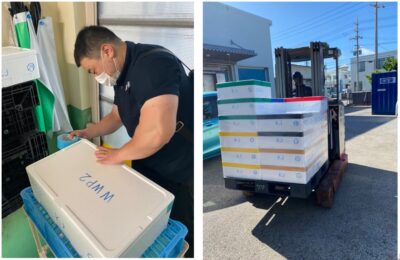 Do you know Ryukyu Sugi? It is sometimes called Ryukyu Amberjack.
Sugi is categorized as a family of Suzuki (Seabass), becomes around 1.5m long, living mainly in warm sea area around the world.
The catching amount and the distribution volume in Japan is very limited, so it is not much known as edible fish.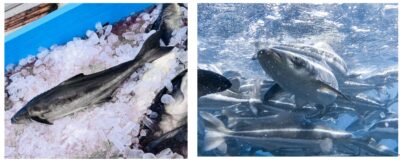 Ryukyu Sugi is farmed consistently from young to adult at one of the most beautiful sea in the prefecture, facing to Kourijima Island. This fish's special characteristic is its beautiful bloody meat and transparent white meat.
It seems that you can enjoy a high-quality fat and a crunchy texture.
It is caught all year round, but the spawning season is in June, and it gets well-fat and the best taste season is from Spring to Summer!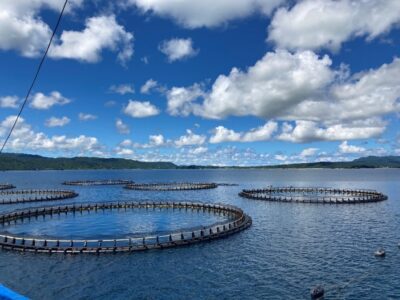 ↑Fish preserve of Ryukyu Sugi-farm
Its characteristics of high production efficiency and good taste have attracted attention, farming and branding are being of this fish promoted mainly in Okinawa Prefecture, and it is said that it will contribute to sustainable fisheries.
Ryukyu Sugi has so many charms that we cannot finish writing here, so whtn you see it somewhere, please try it!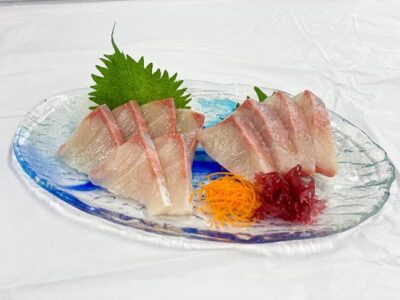 The first shipment of Ryukyu Sugi was delivered safely to our customer, with Taishin's careful packaging!
We will continue to strive to have as many people as possible eat and know about the products of the suppliers who support our diet, as well as the attractive Japanese fish such as Ryukyu Sugi.
If you have any questions about our products, please feel free to contact us.
【Contact us】
Itabashi Trading Co., Ltd
Food Department 
Mr.TAKAYAMA  (Japanese, English, German)
TEL :+81-3-3248-1016(Workday 10:00~17:00) 
FAX :+81-3-3248-1008
Email: shokuhin@itabashi-trading.com
Recent Posts
Category