Itabashi Trading "Sesame Dressing" released to consumers.
Itabashi Trading brand "sesame dressing" is our PB product.
Until now, it was only used as a novelty and a souvenir when visiting business partners & customers.
It has been widely praised and finally released to the consuming public in April 2021.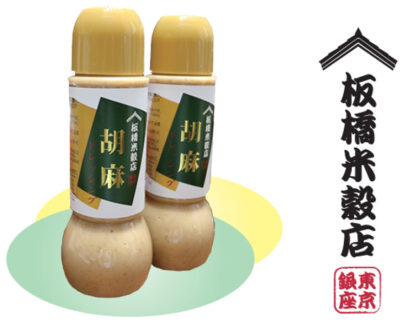 Product name Itabashi Rice Store " Sesame Dressing "
Contents 390 ml
"Sesame dressing", you can enjoy rich sesame taste and moderate sweetness. Please try it once.
The ingredients are pure and no chemical additives are used, so this product is good for your health and we recommend also for children.
Just adding a little bit to a plate of some vegetables,
and you can transform it into a dish salad that you will fully feel the sesame flavor and richness.
The flavor with moderate acidity and mild taste are suitable for arrangement with various dishes.
It can be used for salad udon noodles in summer,
and as a sauce for hot pot shabu-shabu in winter. So you can use widely regardless of season.
Currently, only online sales are available in Japan.
Please check the detailed information from the link below.
If you are interested in Itabashi Rice Store " Sesame Dressing ", please feel free to contact us.
We can also handle large orders for corporations.

Contact Us 
Itabashi Trading Co., Ltd.
Food Department Mr.Takayama Ms. Sutoh 
TEL 03-3248-1016(Workday 10:00~17:00)
FAX 03-3248-1008
E-MAIL: shokuhin@itabashi-trading.com
Recent Posts
Category