Part-time employees supporting fresh fish export
We export fresh fish, frozen products, and dried goods purchased on the same day to overseas.
Packaged cargoes are transported directly from Toyosu Market to the airport, exported by plane, and delivered to our overseas customers. Our main overseas customers are supermarkets and restaurants.
In order to deliver fresh fish to our overseas customers in good condition, we have part-timers who work hard from early morning with our employees to pack the items.
This time, we will introduce some of the part-time jobs at Toyosu Market.
The work mainly involves packing frozen products and fresh fish.
TIME SCHEDULE

(Job duties vary depending on work hours and experiences.)

Morning meeting                    Picking up merchandise     Packing frozen goods
We currently have 8 part-time members, some of whom are women.
The age range is wide, from students to those in their 40-50's. Also, those with no experience quickly become accustomed to the work and are active in it.
The main reason our part-timers started working here is because they were introduced by their workmates, in addition, some of them want to earn money in a short time or to make the most of their daytime hours for their dreams or other jobs.

Box numbering and packing with dry ice     Fresh fish packing
Some of them had a hard time getting used to the irregular working hours and temperature differences at the Toyosu Market, but they all continue to find it rewarding despite the hardships.
In addition to rewarding, some of them told us that they enjoy having friendly conversations with fellow employees and part-timers during breaks. We would like to keep making efforts to create an environment where everyone can work in a friendly and enjoyable manner.
Also, the Toyosu Market is normally closed to visitors, so it's only for those who work there to be able to see the market in the morning when it is full of vitality.
We are always looking for part-time employees to work with us at the Toyosu Market.
If you are interested, please feel free to contact us.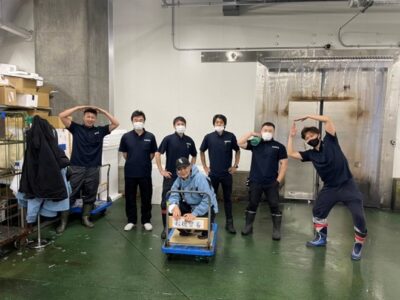 【Contact us】
Itabashi Trading Co., Ltd
Food Department
TEL: +81-3-3248-1016(Workday 10:00~17:00)
FAX: +81-3-3248-1008
Email: shokuhin@itabashi-trading.com
Recent Posts
Category