We exhibit in the FHC Shanghai Global Food Trade Show.
Our subsidiary ITABASHI TRADING CHINA CO., LTD. participated in the FCH Shanghai Global Food Trade Show, held at Shanghai New Expo Centre for 3 days, from November 10th to 12th.
※FHC stands for Food and Hospitality China.

This picture shows gist sets of Japanese rice.
ITABASHI TRADING CHINA exhibited the following 12 kinds of rice from four brands (JA ZEN-NOH, Itabashi BEikokuten, Shokuren and Senda Mizuho).
While other companies only handle 1-2 kinds of rice, our company is able to handle many kinds of rice through our own channel.
【Rice we displayed】
Ishikawa Koshihikari(瀛之光日本产米)  
Uonuma Koshihikari(鱼沼瀛之光)
Mie Koshihikari(板桥日本产米)
Yamagata Haenuki(瀛奇迹)
Shiga Nikomaru(笑颜丸)
Saga Uwaba Koshihikari(上场越光)
Saga Yumeshizuku(梦之晶露)
Kyoto Kinuhikari(绢光米)
Akita Akiotakomachi(小町美人)
Kyoto Koshihikari(京越光)
Hokkaido Yumepirika(梦品丽嘉)
Hokkaido Nanatsuboshi(梦之星)

This picture shows the expo-venue.
We explained and sold our products to visitors focusing on our new product, Gift sets.
We have 6 kinds; Koshihikari, Akitakomachi, Nanatsuboshi, Yumepirika, Yume Shizuku and Haenuki for the gift set.
The gift sets are sold online, in exclusive supermarkets, gift shops and exclusive restaurants.
The size is 2kg, which is easy to try, so we would like you to compare some kinds at your home.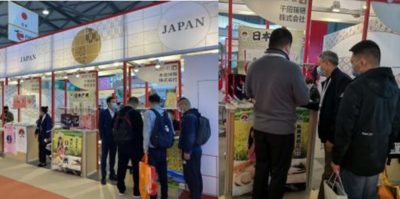 Due to the influence of COVIE-19, the visitors were so few and there were booths which exhibitors could not attend.
We are not able to serve samples tin this time, in compliance with the strict regulation, but we explained the deliciousness and good points for visitors who were interested in our Japanese rice.
During the fair, there were infected person for corona virus in the area of venue is located (Pudon New Ward, Shanghai), so people were worried about it.
However, it was such a good opportunity for the visitors to know about Japanese rice.
We will continue to work hard to expand our sales of Japanese rice to all over the world.
If you are interested in handling Japanese rice, please contact us.
Contact Info for Food Division:
TEL: 03-3248-1016
Email:shokuhin@itabashi-trading.com
Person in charge:
野口(Noguchi) For China (Japanese is available)
何(Nan)  For China (Japanese & Chinese are available)
高山(Takayama) For Other countries (Japanese, English & German language are available)
Recent Posts
Category