We had sales promotion activities for Japanese rice   ~@City super in Shanghai~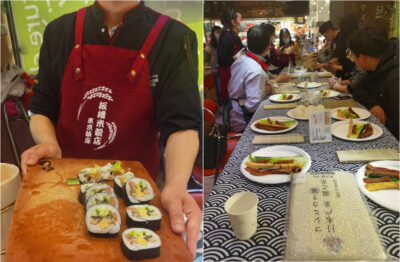 Itabashi Trading China Co., Ltd., a subsidiary of Itabashi Trading, sells Japanese rice at retail stores and online shops.
In middle of March, we gave a demonstration of how to cook Japanese rice, Futomaki(Sushi Roll), and Sushi at Citysuper, supermarket in Shanghai,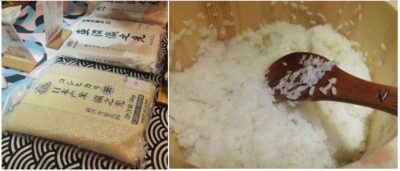 *Organizer:Itabashi Trading China Co., Ltd.
*Venue: Citysuper iapm store
*Rice we used:Citysuper brand Koshihikari from Niigata & Itabashi Beikokuten brand Koshihikari from Uonuma, Niigata (Grown in 2020)
*Participant:about 20 persons (Reserved in advance)
       Members of Citysuper, customers who are interested in Japanese rice
*Lecturer:Chef of Tokyo Washoku, a customer of Itabashi Trading China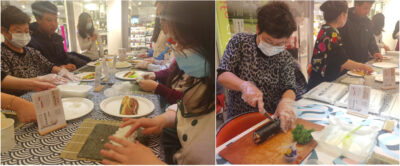 This time, in consideration of hygiene, we made Futomaki and Sushi without using fresh fish.
Most of the participants have never experienced making Futomaki and Sushi, but the participants cooperated with each other and enjoyed cooking.
And we were glad that the participants ate their hand made Sushi and Sushi roll delightfully.

Chef of Tokyo Washoku           The creative Pork Sushi made by the chef
Citysuper has 4 stores in Shanghai, and handle a lot of Japanese foods and cooking utensils for Japanese foods.
Among them, we supply Japanese rice such as "Koshihikari from Uonuma", "Itabashi Beikokuten Koshihikari" which we used this time, and also "Nanatsuboshi" and "Haenuki".
Through this kind of events, we will continue to spread the deliciousness of Japanese rice directly to consumers.
If you are interested in handling Japanese rice, please feel free to contact us.
Contact Information:
TEL: +81-3-3248-1016
E-mail: shokuhin@itabashi-trading.com
Person in charge: 野口(Noguchi) for China (Japanese)
                      何(Nan) for China (Japanese, Chinese are available)
              高山(Takayama) for other countries (Japanese, English and German language are available)
Recent Posts
Category