[December 2021] Only available in midwinter Himi winter yellowtail (Himi Kanburi)
Here in Japan, which boasts the largest amount of yellowtail landed in the world, due to the development of aquaculture technology, now we can enjoy delicious yellowtail throughout the year, even if it is not the winter season.
Meanwhile, Wild fish grown in a stress-free and rich natural environment are popular with skilled chefs and gourmets.
Wild yellowtail is caught in Japan is from Hokkaido in the north to Nagasaki in the south, but this time we would like to introduce the famous Himi winter yellowtail(Himi Kanburi/氷見寒ブリ) in Toyama prefecture, which is located in the Hokuriku region.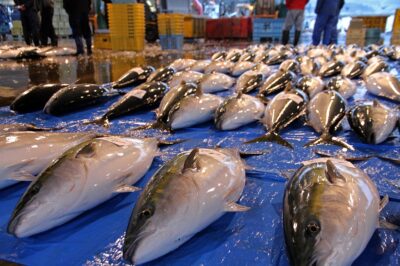 Himi fish port
Toyama Bay, located in the center of the Sea of Japan, is a habitat of more than half of the approximately 800 species of fish and shellfish that inhabit the Sea of Japan, and is blessed with marine resources, also known as "natural cages."
Therefore, you can enjoy delicious fish all year round in the coastal area of Toyama Bay.
In Himi City of Toyama prefecture, which is located in the northwestern part of Toyama Bay
・ Caught in a fixed net in the designated area
・ Sold by auction at Himi Fishing Port
・ Large size of 6kg or more
Those who meet these three conditions are certified as "Himi yellowtail".
In the market, the blue box is a landmark.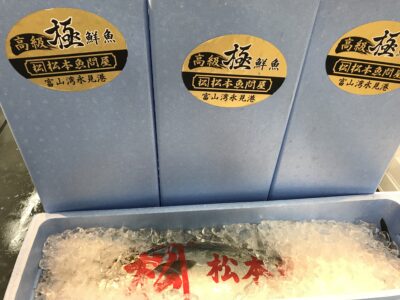 Himi Yellowtail limited blue box
The season is only during two months from the end of November to the beginning of February.
It is caught under certain conditions, and the short season of Himi yellowtail is known as a high-class winter fish.
Himi yellowtail grows in the cold water of winter, so it is firm and chewy, and you can enjoy a crunchy and elastic texture with sashimi.
Not only sashimi but also shabu-shabu and Japanese styled cooked yellowtail and daikon radish with soy sauce are good way to enjoy the parts of the soft belly, which has good oiliness.
Yellowtail may be known overseas as a fish used in Japanese cuisine, but is also suitable for western cooking styles such as carpaccio and grilled yellowtail with bread crumbs.
Our overseas customers also place an order of a large size of 10 kg or more during the winter yellowtail season. The rich taste of plump and fat yellowtail is very popular with overseas customers.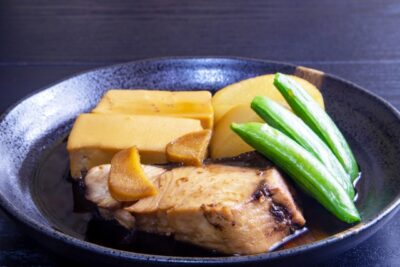 Yellowtail and daikon radish with soy sauce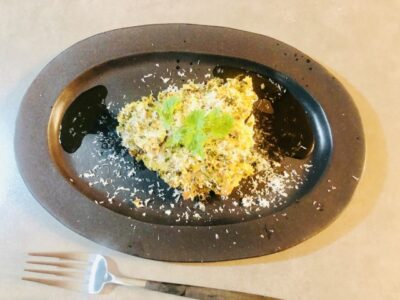 Grilled yellowtail with bread crumbs
We would like to spread delicious Japanese fish overseas in various ways.
We are able to export Himi Yellowtail.
If you are interested, please feel free to contact us.
【Contact us】
Itabashi Trading Co., Ltd 板橋貿易株式会社
Food Department 
Mr.TAKAYAMA  (Japanese, English, German)
TEL :+81-3-3248-1016(Workday 10:00~17:00) 
FAX :+81-3-3248-1008
Email: shokuhin@itabashi-trading.com
Recent Posts
Category