We exhibited at China International Import Expo in 2020(CIIE).
We exhibited at the 3rd China International Import Expo CIIE2020, which was held at the National Convention & Exhibition Center in China for 6 days from November 5th to 10th, and it was the third time we exhibited in this expo.
Approximately 3,800 companies and organizations from 181 countries and regions around the world participated. And our subsidiary Itabashi Trading China Co., Ltd. attended as an importer and distributor of Japanese rice in China.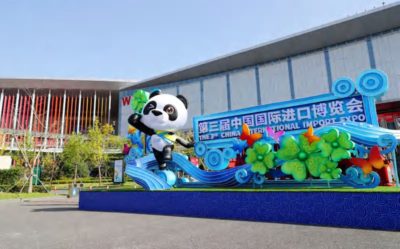 While there are various exhibition genres such as Food & Agricultural products, Automobiles, Technical equipment, Consumables, Medical equipment & Medical insurance, and Trade service, Itabashi Trading China exhibited many Japanese rice at their booth and it was crowded of people from the first day.
View of the Exhibition hall

You can see the booth of Itabashi Trading China.
The main exhibits are about 10 kinds of rice from each production area, such as Hokkaido, Niigata, Kyoto, and Kyushu!
Other distributors handle 1-2 kinds of Japanese rice, but we handle many kinds.
In China, we have as many brands of rice as that of supermarkets in Japan.
Among the many kinds of Rice we arrange, Nanatsuboshi from Hokkaido, Koshihikari from Uonuma, Niigata, and Koshihikari from Ishikawa are hot in China now.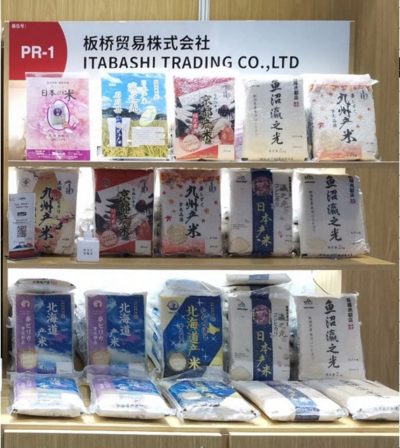 We served seasoned-cooked-rice at the tasting booth for a limited time.
There were a long line and visitors enjoyed it very much.
We used more than 10kg of rice at the 6-day exhibition!
We would like more and more people to know the deliciousness of Japanese rice.

Thank you very much for visiting our booth.
We have exported not only to China but also United States and Australia.
Please contact us if you would like to know more about exporting Japanese rice to overseas.
Contact Info for Food Division:
TEL: 03-3248-1016
Email:shokuhin@itabashi-trading.com
Person in charge:
野口(Noguchi) For China (Japanese is available)
何(Nan)  For China (Japanese & Chinese are available)
高山(Takayama) For Other countries (Japanese, English & German language are available)
Recent Posts
Category