As good as a Halloween costume、Colorful"Schlegel red bass"!
Autumn has advanced, and the mornings and evenings have become colder. The trees and the sky are calming down toward winter.
As Halloween is near within a month, I would like to introduce the colorful fish which is as good as Halloween costume, "Schlegel red bass" here.
"Schlegel red bass" inhabits the Pacific Ocean side south of Sagami Bay and is a fish that appears on the market all year round, but there is no specialized fishing and the landing quantity into the Toyosu market is not large.
Therefore, if you know this fish, you must have expert fish knowledge.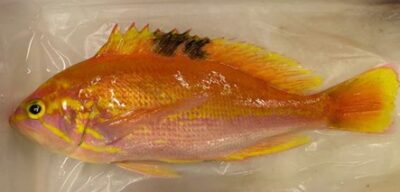 There are many kinds of fish at the Toyosu Market, among which the brightly colored "Schlegel red bass" is very eye-catching. Contrary to its colorful appearance, the fish meat is white and belongs to a white-body fish.
Because it has less fat, it is very light taste.
The fish skin is thick and hard, so, there are many cooking methods to take advantage of this features.
Due to the features of fish that the meat is dried out when grilled, and breaks easily when cooked, tempura and light frying are recommended. Now, I would like to introduce the cooking method here.
Remove fish scales and fillet the fish.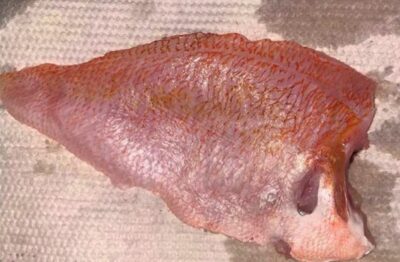 Cut into small pieces that are easy to eat with the skin on.
※The fish skin is very delicious, and it is said the most delicious fish under the skin. So, eating with the skin is the key point.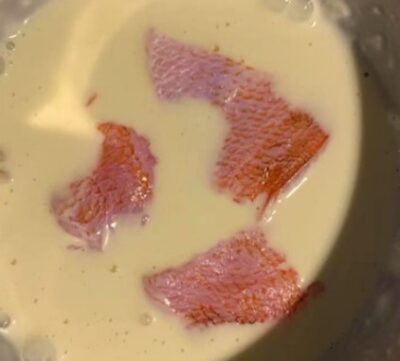 Coat fish in batter and fry at 180 degrees.
※Please adjust the frying time according to the heating tools and the size of the fish.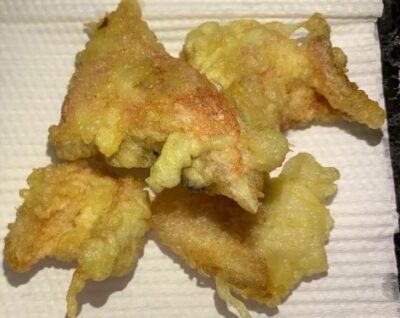 Finally, please allow me to introduce a bit of knowledge about "Schlegel red bass".
In Japanese, the names of" Chicken grunt"(Isaki) are very similar to "Schlegel red bass"(Aka Isaki), but from the categories of fish," Chicken grunt" belongs to the group of grunts, and "Schlegel red bass" belongs to the group of groupers.
And it was born as a female fish at first. When it grows to about 34cm, it begins to become a male fish, which could grow to about 45cm. During the female periods, part of the fish's body color is between pink and beige, and when it turns to a male, it becomes a bright mixed golden color.
The male fish is relatively delicious, and the color is also very beautiful. It is recommended to choose the male fish if possible.

It's hard to find in supermarkets. If you see it, please have a try!   
Recent Posts
Category